Below is a summary, for small businesses, of the announcements made in today's Budget.  Detailed tax rates and thresholds can be found on the HMRC website.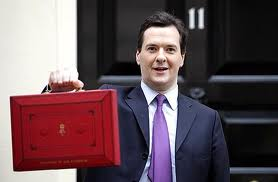 Individuals
Personal allowance (the amount earned before tax is due) will increase to £8,105 from April 2012 and to £9,205 from April 2013.
From 6 April 2012, National Insurance kicks in for employees when they earn in excess of £146 per week but employers have to start paying once wages exceed £144 per week (so much for simplification!) and the self-employed pay NI when earnings exceed £7,605 per annum.
Basic rate tax band (20% tax rate) is to reduce to £34,370 from April 2012 and to £32,245 from April 2013.
Higher tax rate (paid on earnings in excess of £150,000) will reduce to 45% from April 2013.
Pension allowance is to remain at £50,000.
Capital gains allowance is to remain at £10,600.
Child benefit will be phased out, from Jan 2013, where one parent is earning between £50,000 and £60,000. No child benefit is payable once earnings exceed £60,000.
Companies
Main company tax rate is to reduce to 24% from April 2012 and to 23% from April 2013.
Small company rate (where profits are below £300,000) is to remain at 20%.
IR35 changes are being proposed to ensure more businesses are caught but nothing concrete has been announced yet!
VAT
Registration threshold to increase to £77,000 from April 2012.
Other
Annual investment allowance (tax relief for fixed assets) will reduce to £25,000 from April 2012.
Unincorporated businesses with a turnover below £77,000 will be able to use a simpler cash accounting system from April 2013.
The above is a brief summary of a 208 page Budget document.  If you suffer from insomnia, we recommend perusing the detailed Budget announcements.